Tokyo (May 20, 2011) — Fujitsu Limited and Fujitsu Design Limited today announced the selection of winners for the FUJITSU Design Award 2011: A LIFE with Future Computing, the full-scale international design competition, open to designers around the world, aimed at the development of PC-related designs bringing innovation to people's daily lives.
Over 1,000 PC design submissions were received during the competition from countries across the world. The Grand Prize was awarded to "The Aid," an ICT-enabled cane from the LIFE-DESIGN category for innovative "lifestyles" for the year 2020. Runner-Up Prizes were awarded to "Crowd," a PC design that can be operated to fit a variety of usage scenarios from the LIFEBOOK category for notebook PCs launching in 2013; and "Integral Cord," an innovative ICT-cord enabling a wide range of uses and communications applications from the LIFE-DESIGN category.
By hosting the FUJITSU Design Award 2011, Fujitsu aims to further promote the pursuit of "human-centered" designs, while helping to open the door to new lifestyle possibilities.
Background
The competition, which is based on Fujitsu's "shaping tomorrow with you" brand promise, is an initiative aimed at implementing product ideas requested by customers. In striving to bring about a new society that contributes to the daily lives of people through the delivery of ICT products and services, Fujitsu is pursuing designs that bring users closer to computing technologies and can be conveniently and easily employed by a greater number of people. As such, the winning designs have been selected with an eye for "human-centered" designs.
Winning Designs
Grand Prize
Title: The Aid
Designer: Egle Ugintaite
Country: Lithuania
Description: By using a cane that provides mobile navigation and health management services, users who have difficulty leaving their homes can become active members of society. This design takes into consideration how ICT devices can be useful in users' daily lives and deploys services that are integrated with social infrastructure.
Runner-Up Prize (LIFEBOOK Category)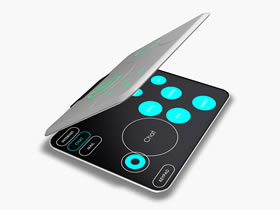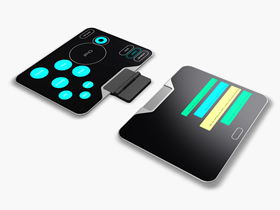 Title: Crowd
Designer: Philipp Schaake
Country: Germany
Description: Features a variety of different usage styles including a slate configuration, notebook configuration, and a configuration in which the screen and keyboard are separate. This design idea showcases a notebook that can be flexibly operated to fit any application or intended use. With an emphasis on the notebook's back cover, the PC can even be operated when closed.
Runner-Up Prize (LIFE-DESIGN Category)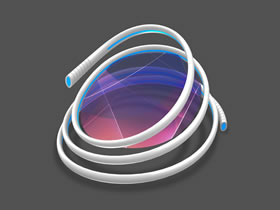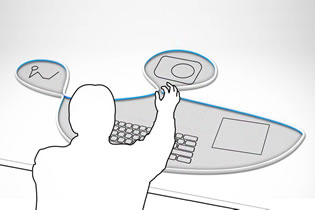 Title: Integral Cord
Designer: Raphael Lang / Yu-Lin Hou / Chan Wing Tak
Country: Germany
Description: This ICT-cord device can be easily positioned in any configuration, with a computer screen displayed inside the space enclosed by the cord. In addition to allowing for a diverse range of applications, this design creates new opportunities for communication by allowing multiple people to operate the display screen at the same time.
Judge's Special Award (awarded by Ross Lovegrove, industrial designer)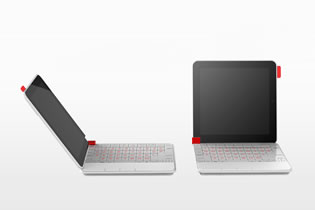 Title: Anderson
Designer: Ma Yiwei / Tao Ying
Country: Hong Kong
Description: In envisioning more opportunities for users to carry around their PCs, this notebook has been designed for ease-of-use when the user is both sitting and standing, making possible various operational styles that fit a wide range of different usage scenarios.
Judge's Special Award (awarded by Mad Ma Yansong, representative of MAD)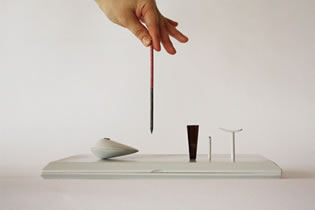 Title: The Haunted Mountain
Designer: Lou Xiaoyu
Country: France
Description: This design's approach appeals to the five senses through added functionalities—including LCD projector displays, virus alerts, and audio sensors—featuring physical movement and scent, thus allowing users to enjoy the advanced capabilities of PCs.
Judge's Special Award (awarded by Birgit Lohmann, Chief Editor of designboom.com)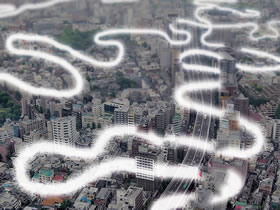 Title: River runs through City
Designer: Chikara Ohno
Country: Japan
Description: This proposed design for building social infrastructure is inspired by periods in history during which civilization flourished along riverbanks. It aims to give shape to urban culture by spreading visualized information through a geographic region like a flowing river.
Judge's Special Award (awarded by Gwenael Nicolas, representative of Curiosity)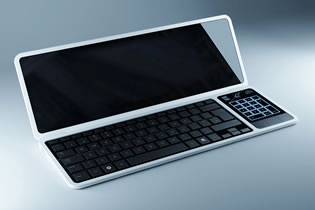 Title: Frame Series
Designer: Florian Langer / Patrick Decker
Country: Germany
Description: This innovative notebook brings together the individual features of devices like smartphones and slate terminals within a single computer frame. The result is an integrated PC that harnesses the strengths of multiple devices.
Judge's Special Award (awarded by Toshiyuki Inoko, representative of Team Lab)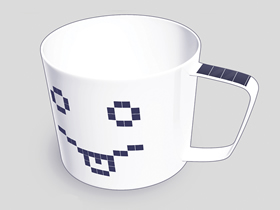 Title: Smile Cup
Designer: Nikita Mokhirev
Country: Estonia
Description: Inspired by emoticons, this communication-based cup can convey information on the user's mood as they are enjoying a cup of tea.
Judge's Special Award (awarded by Nobuo Otani, Corporate Vice President, Fujitsu Limited)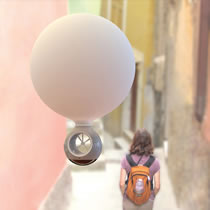 Title: The total recall agent
Designer: Shohei Nakamura / MoonHwan Lee / YoungWook Jung
Country: South Korea and Japan
Description: A "travel agent" in the shape of a flying balloon that records one's activities while on vacation and uses cloud computing technology to share these travel experiences with others. This design also includes travel guide functionality.
Judge's Special Award (awarded by Kimitaka Kato, President, Fujitsu Design Limited)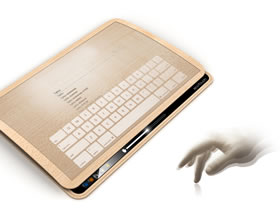 Title: ecoPad
Designer: Yonggu Do / Jun-se Kim / Eun-ha Seo
Country: South Korea
Description: Electricity is generated when the user presses the touchscreen of this PC, which can power itself. The design is environmentally-friendly and technically viable.
Contest Outline
Name: FUJITSU Design Award 2011: A LIFE with Future Computing
Hosted by: Fujitsu Limited, Fujitsu Design Limited
Partners: designboom®, DESIGN ASSOCIATION NPO
Categories:
Designs in the LIFEBOOK category of notebook PCs for release in 2013; designs in the LIFE-DESIGN category of next-generation computing technologies, including service concepts, for the year 2020
LIFEBOOK Category
New product designs for Fujitsu's LIFEBOOK notebook PC series targeted for release in 2013. Designs need to incorporate network functionality and employ computing technologies. Submissions to this category must describe a design idea for an ideal next-generation computing device.
LIFE-DESIGN Category
Designs for innovative "lifestyles" for the year 2020 that benefit from network-enabled computing technology. Designs need to take into consideration all of the possible ways in which users can utilize the technology, such as both inside and outside of the household. Submissions to this category must describe an innovative service concept for making our daily lives more prosperous, as well as a design based on this service concept that employs next-generation computing technology to open the door to new lifestyle possibilities.
Entry Period: October 29, 2010 – January 31, 2011
Eligibility:
Designers inside and outside of Japan (professionals, amateurs and students). Groups are also eligible.
Submission Method:
Submission via the FUJITSU DESIGN AWARD 2011 entry form at designboom's official homepage.
Submission Materials:
LIFEBOOK category: Product rendering/3D blueprint/explanation of usage scenarios (video clips accepted)
LIFE-DESIGN category: Product rendering/explanation of service/explanation of usage scenarios (video clips accepted)
Judging Process:
Awards will be decided after three rounds of judging.
Panel of Judges:
Ross Lovegrove

Mr. Ross Lovegrove is an industrial designer born in England in 1958, who graduated from the Royal College of Art. He worked as a designer for Frog Design, and later joined Atelier de Nimes. In 1990, he set up his own design office in London, known as Studio X. He is highly regarded for his designs based on avant-garde concepts, and has exhibited work in the Museum of Modern Art in New York, Centre Pompidou in Paris and the Design Museum of London. He is the winner of numerous awards, including the World Technology Award from Time Magazine, and the Red Dot Design award.
Mad Ma Yansong

Mr. Ma was born in Beijing in 1975, and has a postgraduate degree in architecture from Yale University in the USA. Ma worked at Zaha Hadid Architects in London, and Eisenman Architects in New York. In 2004, he formed MAD, a Beijing-based design office dedicated to innovation in architectural practice, landscape design and urban planning. He is featured in the Icon Magazine article "The 20 Essential Young Architects", and has won the Young Architect Award numerous times from the Architecture League of New York. He has also taught at Columbia University, MIT, and Harvard.
Birgit Lohmann (Chief Editor of designboom.com)

Born in Hamburg, Birgit studied industrial design in Florence. Since 1987, she has been involved in a number of leading architecture and design projects in Milan, Italy and worked as a design historian for justice departments and international auction houses. As a researcher and lecturer, she has conducted seminars on industrial design at a number of international universities. In 1999, she co-founded designboom, where she is currently editor in chief, head of educational programming and curator for international exhibitions.
Gwenael Nicolas

Mr. Gwenael Nicolas was born in France in 1966, and came to Japan in 1991 after studying industrial design at RCA (London), and working on interior design at E.S.A.G (Paris). In 1998, he formed his own design studio known as "Curiosity", focusing on the seamless integration of everything from construction to interiors, products, and packages in lifestyle. He is well known for his interactive experience design of the "Lexus RX Museum" and "Light-Light". He is the winner of the third annual Ku/Kan Symposium.
Toshiyuki Inoko

Mr. Toshiyuki Inoko is the representative of Team Lab, a group of ultra technologists made up of engineers, designers, architects, CG animators, and mathematicians. While blurring the boundaries of technology, art and design, their work focuses on surpassing the media of the WEB, installation art, and robots. They developed the "Iza" website for Sankei Digital, Inc., and the "Korekamo.net" website for Tokyu Hands. Their work was nominated by the jury of the Japan Media Arts Festival. They have pieces on display at the Louvre Miyauchi National Museum of Decorative Arts.
Nobuo Otani (Corporate Vice President, Fujitsu Limited)
Kimitaka Kato (President, Fujitsu Design Limited)
Prizes
Grand Prize: One design (cash prize of 30,000 euros(1))
Runner-Up Prize: Two designs – one from each category (cash prize of 10,000 euros each)
Judge's Special Awards: Seven designs (cash prize of 1,000 euros each)
Honorable Mention: Several designs
---
Glossary and Notes
1 30,000 euros:

Please note that income taxes will be deducted from the prize money before payment.